New Zealand comics and graphic novel links
Note: If you know of a link that should be added to this list, please let us know!
News, info, blogs:
From Earth's End: Adrian Kinnaird's NZ comics news blog.

Pikitia Press: Mat Emery's NZ & Australian comics news blog.

Comics.org.nz: home of the NZ Comics Wiki.

Werewolf Cartoon Alley: reviews and comic strips.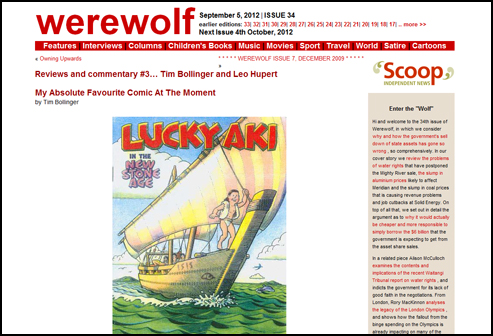 Magazines:
Funtime Comics
Radio As Paper
Dud
Faction Comics
Events:
Armageddon Pulp Culture Expo
Chromacon
Overload
Auckland Zinefest
Wellington Zinefest
Collectives:
NZ Comics Creators
Cherry Bomb Comics
Alphabet City
Dunedin Comics Collective
Quarantine Comics
Cool Guys
Other:
The Wellington City Libraries Zine Collection
NZ Cartoon Archive
Retailers:
Arkham City Comics (Auckland)
Graphic Novel Cafe (Auckland)
Heroes For Sale (Auckland)
King of Cards (Auckland)
Retrospace (Auckland)
Mark One Comics (Hamilton)
Iconix (Hastings)
The Badcave (Palmerston North)
Graphic (Wellington)
Comics Compulsion (Christchurch)
The Comic Shop (Timaru)
Pop Fiction (Dunedin)
Dunedin Comics (Dunedin)
Individual cartoonists:
Akira Atsushi
Jerome Bihan
Tim Bollinger
Liam Bowen
Greg Broadmore
Grant Buist
Andrew Burdan
Lars Cawley
Li Chen (Exo Comics)
Laurence Clark (Klarc)
Andy Conlan
Max Coombes (Bogun and Superhero: Joe Diabetes)
Sergio Cornaga (Sir Bumfrey Williger)
Chris Cudby
Hayden Currie
Gregor Czaykowski (Loading Artist)
Tim Danko
James Davidson (Moas)
Rufus Dayglo
Drake (Ninjet)
Draw (Drawing Silence)
Becky Dreistadt & Frank Gibson (Tiny Kitten Teeth)
Anthony Ellison
Matt Emery (Guzumo Comics)
Richard Fairgray & Terry Jones (Blastosaurus)
Rachel Fenton (Rae Joyce)
Simon Fletcher
William Geradts (Beyond Reality Media)
Tim Gibson (Moth City)
Czepta Gold
Chris Grosz
James Hansard (Comrade Hero)
Trace Hodgson
Mark Holland (The Aegean Era: Origins)
Dylan Horrocks
Mat Hunkin
Lee Keegan (Coal Powered Press)
Matthew Kelly (Kiwiman Comics)
Robyn E. Kenealy
Bob Kerr
Timothy Kidd (Western Park)
Jonathan King
Adrian Kinnaird
Sarah Laing (Let Me Be Frank)
Jared Lane
Roger Langridge
Matt Lawrey and Peter Lole (The Little Things)
Barry Linton
Ross MacLeod (Captain Evil)
Robert McMaster (The City Burns Crimson)
Jesca Marisa
Lee-Yan Marquez (The Impostor)
Lauren Marriott (Ralphi)
Cory Mathis (Saurian Era)
Tim Molloy
Mike Moreu
Toby Morris
Simon Morse
Michel Mulipola
Gonzalo Navarro
Stevan Neville & Clayton Noone (City of Tales)
Sophie Oiseau
Kayla Oliver (Art School Sub Rosa)
Sam Orchard (Rooster Tails)
Craig Petersen (Close to Midnight)
Brent Putze
Callum Robertson
Franz Rockel (History Made Me Do It)
Ant Sang
Darren Schroeder
Ryan Scott (Slackman)
Darren & Kelly Sheehan (The Inhabitants)
Margaret Silverwood
Aru Singh
Chris Slane
Ben Stenbeck
Cornelius Stone
Strangely Katie
Marc Streeter (Action Man Adam)
Mat Tait
David Tulloch (Virtually Comics)
Ned Wenlock
Brent C. Willis
Karl Wills (Comic Book Factory)
Colin Wilson
Jason Winter
Joe Wylie
Allan Xia